This is the second post of two, pertaining to "rich snippets" or Google's structured data, which makes that pretty little picture appear in Google's results pages – which work GREAT for grabbing extra clicks.
The last post described what you need to do on your Google+ page, which is about half the battle.  The GOAL is for Google to understand that you are an AUTHOR/Contributor to the page, and if possible, that you are its PUBLISHER as well.  When this happens, Google snags the pretty photo of you from your Google+ page, and slaps it next to your website result in the SERPS.  Cool, huh?
What we've accomplished thus far is pointing Google to the right place (your website) from what you did on your Google+ page in the previous post.  This now means that Google+ is reaching out to your page – but you've got to make your page reach back to meet Google in the cyber-middle.  When this happy e-copulation occurs, Google should reward you (in the next few days or so) by showing the world your face in the SERPS.
So: how to reach back to Google?  This link will help:
http://www.google.com/webmasters/tools/richsnippets
There you can type in your website, and see the progress you're making.  Bascially, if any of the text below the search result image has red anywhere, you know you have errors and work to do.  Your favorite color here is green: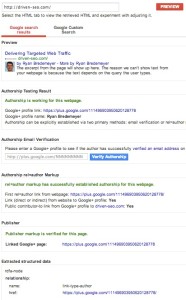 There are a couple ways to skin the cat here, as the rich snippets tool explains.
If your website and its posts are owned by just you, you can paste the following code into any widget/sidebar that appears on every page you want credit for with Google.  If you have a bunch of blog contributors, you'll have to post this code possibly in an "About the Author" type of box on appropriate pages.
The code you need to use to reach back out to Google is:
<a href="https://plus.google.com/

your_google+_number

?
 rel=author">Check me out on Google+</a>
Where your_google+_number is of course replaced by….your google profile number (which can most easily be found on your Google+ page by clicking on your image on the top right, then click privacy, and its the string of NUMBERS at the end of the url by your mini picture and Google+ url in green.  In my case, it is 21 digits long.)
Elsewhere on your page(s), if you add this code:
<a href="https://plus.google.com/

your_google+_number

"

rel="publisher">Love us on Google+!</a>
Google should then acknowledge you as PUBLISHER of your page(s) as well.
Check out your site once more at Google rich snippets tool to make sure all is happily green, and then just sit back and relax for a couple of days until Google's gestation period is complete and you have that little picture of you on the Google results for your effort.  Congrats!

If this post was helpful, SHARE it on your favorite social networks.  Comments welcome – Thanks!